Novoos announces the launch of the next-gen launchpad and $NOVO Token within its ecosystem.
Novoos, a cutting-edge blockchain project, is thrilled to announce the launch of its flagship product, NovoPad, and its native token, $NOVO. NovoPad represents the next generation of launchpads.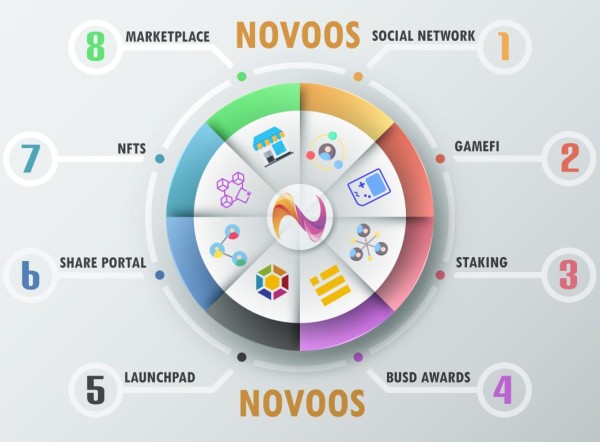 NovoPad introduces a new insurance and reward fund through a special contract designed to provide investors with enhanced security and peace of mind. With dedicated security checks and research on behalf of investors, NovoPad ensures a latest investment environment which in comparison to others, the functionality implemented is not available anywhere else. The platform also facilitates cash back to investors, automated refunds of tokens to project owners and investors in case of cancelled sales or failure to reach soft cap, automated distributions, NFT showcases, gamification, project use cases, and much more.
Integration of the Web3 AI Automated Anonymous KYC, with global database background checks against AML (Anti-Money Laundering) regulations, is ready prior to the $NOVO token presale, ensuring a compliant and secure investing experience.
The Novoos Rewards Dash, accessible through NovoPad, allows users to participate in the Novoos Rewards system to stake their $NOVO tokens via a special ticketing system. The platform rewards users with native Novoos tokens and in addition to any stable coin or token which is distributed via the unique Novoos Rewards contract. To counteract potential price fluctuations in the charts, Novoos has implemented a buyback system. A percentage of funds will be allocated to the liquidity pool (LP) to stabilize the price and graph, supplemented by manual buybacks.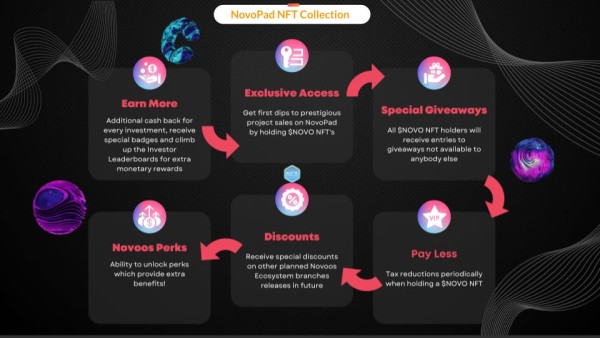 By holding more $NOVO tokens, investors can have reflections, which mirrors the staking process for even greater returns. The initial rewards will be distributed in $BUSD, with the capability to distribute any token or stablecoin in the future which will depend on the trends in the market.
Additionally, the $NOVO ecosystem is built upon a foundation of branches that provide a wide range of utilities and use cases. Each branch represents a key aspect of the Novoos project and contributes to its overall vision. With an internal tracking system, Novoos monitors each branch's progress within the ecosystem, ensuring continuous development and improvement.
Sub-branches further enhance the ecosystem by offering smaller yet impactful utilities. As the project evolves, the Novoos ecosystem and its branches will continue to grow, expanding the roadmap and realizing the future vision of the project. The first branch, NovoPad, is complete and ready for release. Moving forward, $NOVO branches and sub-branches will receive regular upgrades and new utilities, ensuring a dynamic and ever-expanding ecosystem.

About the Company – Novoos:
Novoos is a groundbreaking blockchain project focused on delivering a new crypto-investing experience. With the launch of NovoPad, the next generation of launchpads, and the introduction of the $NOVO token, Novoos aims to provide users with features, rewards, and security. By combining cutting-edge technology, strategic partnerships, and a comprehensive ecosystem, Novoos is poised to transform how investors are rewarded in cryptocurrency.
For further details, potential clients can visit the official Link Tree of the company.
Disclaimer: This press release may contain forward-looking statements. Forward-looking statements describe future expectations, plans, results, or strategies (including product offerings, regulatory plans and business plans) and may change without notice. You are cautioned that such statements are subject to a multitude of risks and uncertainties that could cause future circumstances, events, or results to differ materially from those projected in the forward-looking statements, including the risks that actual results may differ materially from those projected in the forward-looking statements.
Media Contact
Company Name: Novoos
Contact Person: K. Lux
Email: Send Email
Country: United Kingdom
Website: https://novoos.net