World's Most Famous Athletes Use 'Never Give Up Day' to Inspire Their Fans
Los Angeles, CA – August 18 is officially Never Give Up Day! More than 80 cities across the US and Canada proclaim August 18th, 2023, as Never Give Up Day.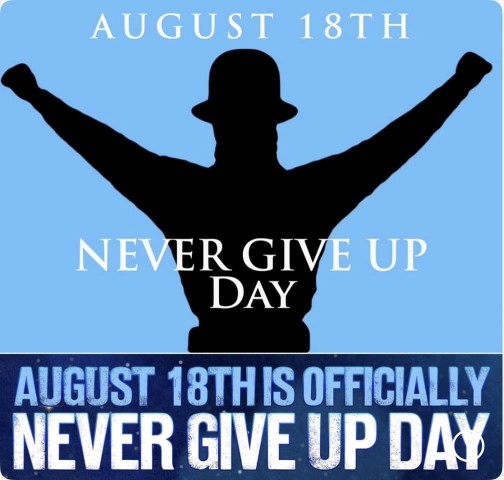 Never Give Up Day is a celebration focused on cultivating a mindset of determination and highlights the unbelievable power of individuals who simply refuse to give in to life's challenges.
"It's a common way to model ourselves after those who are living our dreams," says Alain Horowitz, Global Director of Never Give Up Day. But when it comes to finding inspiration, he adds, we take it from those who had actually lived a life full of day-to-day sacrifices, before accomplishing great success. LeBron James and Michael Jordan and countless others are known for not only their talent on the field, but also their core values of perseverance and determination.
Creative agencies and sports marketers have seen that players and athletes are actually their most effective marketing channel. They are second to none at engaging fans and bringing exponential growth to the social media reach and engagement for their team and sport.
A great champion isn't only about having the potential and capability to make it to the top of their sport, but also having an off-field presence that inspires the fans. That means they can tell personal stories about their experiences and the ups and downs of daily life. They become extensions of our identities and markers of what we stand for. They reflect our personal worlds.

Cities across the US and Canada recognize the importance of never giving up in life and proclaim August 18th, 2023, as Never Give Up Day.
USA: Sunnyvale (CA), Wenatchee (WA), Bossier City (LA), Lakeland (FL), Thornton (CO), Cibolo (TX), Deland (FL), Greenville (NC), Milwaukee (WI), Linden (NJ), Fate (TX), Tempe (AZ), Springfield (OR), San Marcos (TX), Brownsville (TX), Loveland (CO), Oakley (CA), Boulder (CO), Rocklin (CA), Kauai (HI), Wichita Falls (TX), Grand Rapids (MI), Vancouver (WA), Friendswood (TX), Surprise (AZ), Niagara Falls (NY), Perris (CA), Fayetteville (AR), Irving (TX), Warren (MI), Sugarland (TX), Corpus Christi (TX), Baltimore (MD), Memphis (TN), Las Cruces (NM), Berkeley Township (NJ), Kinston (NC), North Miami (FL), Toledo (OH), Manteca (CA), Hutto (TX), Glendora (CA), Laramie (WY), Austin (TX), Killeen (TX), Independence (MO), Montgomery (AL), Attleboro (MA), Mission Viejo (CA), Shawnee (KS), Milpitas (CA), Waco (TX), Sachse (TX), Shawnee (OK), Reno (NV), Dayton (OH), Naugatuck (CT), Lancaster (TX), Florissant (MO), North Las Vegas (NV), Daytona Beach (FL), Edinburg (TX), Titusville (FL)
Canada: Halifax (NS), Victoria (BC), Burlington (ON), Brampton (ON), Regina (SK), Niagara Falls (ON), Red Deer (AB), Saanich (BC)
Media Contact
Company Name: Never Give up day
Contact Person: Alain
Email: Send Email
Phone: (929)388 2146
City: New York
Country: United States
Website: www.nevergiveupday.com